Our Mudra Cuff Class is coming up this Saturday, September 22nd
!
This class is the perfect opportunity to knit with beads, have some fun with other knitters and make a fun project for yourself or a gift for someone else. We will be knitting the cuff in class and you can easily transfer what you learned in class and knit a Mudra Necklace for a matching set.
Contact us at the shop to register - seating is limited.
Our new shipment of Mudra Cuffs & Necklaces just arrived so w
e are now fully stocked in all colors, but they won't last long!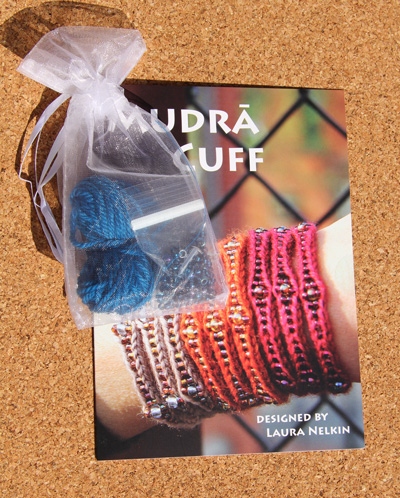 Mudra by Laura Nelkin first arrived a few weeks ago and both the cuff and necklace have been very popular.
The kits are beautifully packaged and include the pattern and all supplies: yarn, beads, 3-strand slide clasp for easy on and off, dental floss threader.
This cuff is f
un to knit, unique to wear and make a very special gift -
as an added bonus, the supplies come in a
sheer organza bag that is the perfect packaging when giving Mudra as a gift.
Instructor Sarah says:
For anyone who has knitted with beads before, this project is quick & easy. For those who haven't, this is the perfect introduction to knitting with beads. The reason this project is so good for beginners (and quick for more experienced knitters) is the repetition and the frequency of the repeat. The simplicity of each allow you to get into a great rhythm and focus on getting the technique & aesthetic perfected. Simply put, knitters of all skill levels can create this project & make it look really good!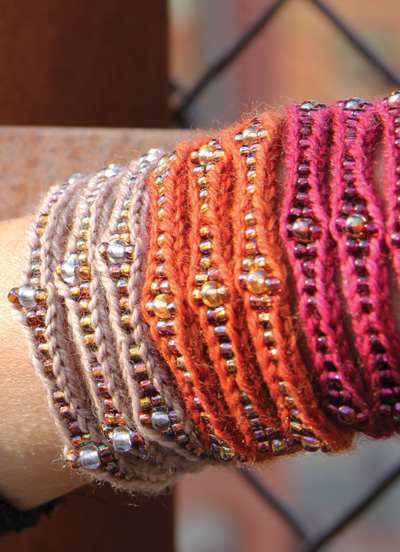 See you in class & happy Mudra Cuff Knitting!